Paralympian Competes To Inspire Others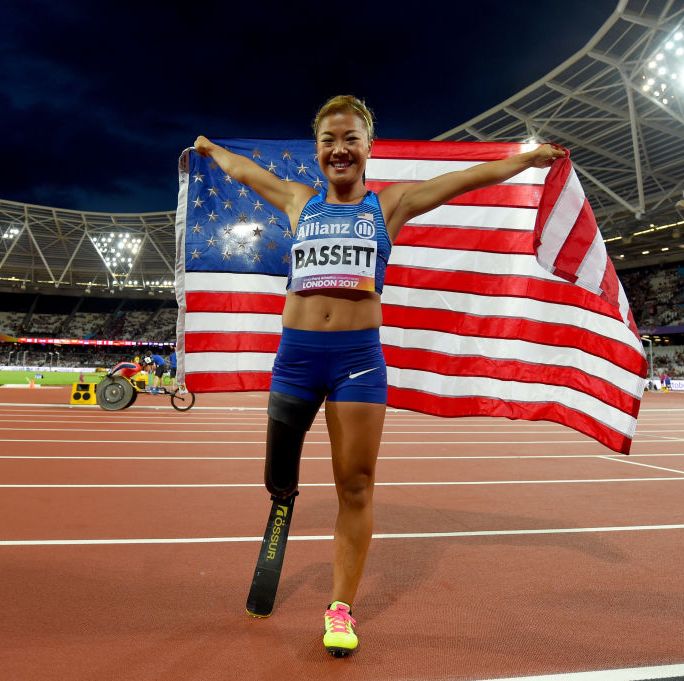 The past year and a half has been tough for Scout Bassett. Not only did the COVID-19 pandemic postpone the Olympic Games in 2020, but the 32-year-old sprinter and long jumper also dealt with a foot injury that made competition even more uncertain.
What keeps her going? Community support, Peloton workouts, and the hope that her career as a Paralympian can inspire a whole new generation of athletes. This isn't the first time she had to overcome adversity. Bassett was abandoned as a baby after losing her right leg in a chemical fire in Nanjing, China, and lived in an orphanage until the age of 7, when she was adopted and moved to Harbor Springs, Michigan.
"I was a young girl who was really just struggling with so many things: identity, acceptance, inclusion. And I was lacking self confidence and direction," Bassett told Runner's World.
But all that changed when she received a grant for a running prosthetic from the Challenged Athletes Foundation at 14 years old. (The cost of sports prosthetics aren't covered by typical health insurances.)
"That was the first time I ever ran, and it really changed the way I saw myself and felt about myself," she said. "It was the first time in my life that I didn't feel disabled or limited, and it really just put me on this path that I could have never dreamed about. But I think the reason it was such a transformational moment in my life is that all the chains that had kept me down as a young girl, all the hundreds and thousands of 'no's' I had heard up until that point, were just gone."
Bassett's high school didn't have track or cross-country teams, but she loved the feeling running gave her so much that she was inspired to train on her own. She started with 5Ks and progressed all the way up to the marathon.
In 2008, during her sophomore year in college at UCLA, the U.S. Paralympic high performance director at the time saw her results and recruited her for track and field.
"I'm so thankful that she did, because at that time I was just really struggling in college being so far away from home. To go to Los Angeles, I just really felt like a fish out of water there. So to find the Paralympics, and once I heard what that was, I wanted to do it and make that my goal," Bassett said.
Since then, Bassett has gone on to compete on the world stage: She came in 5th in the 100 meters and 10th in the long jump at the 2016 Paralympic Games in Rio, earned two bronze medals for the 100 meters and the long jump at the 2017 World Championships, and came in 8th in the 100 meters and 10th in the long jump at the 2019 World Championships.
Bassett stays competition ready with Peloton workouts—HIIT, stretching, and yoga classes are a big part of her training nowadays.
"I'm not one who ever enjoyed going to group classes at the gym because sometimes I have to figure [an exercise] out on my own before I do it, and when you're in the middle of a class, sometimes it can be hard to do," Bassett said. "So it is really nice to be able to watch the [Peloton] classes and say, 'Okay, maybe my mountain climber looks a little different, but here's what I can do instead that still gets the same mission accomplished and that works the same muscles.'"
Peloton classes also helped Bassett feel connected to a community and find joy during the most isolating months of the pandemic. Not having access to the track and gyms—and the lack of in-person interactions with her coaches and teammates that came with that—was difficult for Bassett, who said she thrives on the energy she gets from being with people.
"Something as simple as class-members giving me high-fives, or the class instructors pushing us—that really made me feel less alone, and it was something I could look forward to every day," Bassett said. "It also brought joy to me during a time where I think it was hard to find joy."
Through it all, Bassett keeps the focus on her "why." "Initially, I loved the feeling running gave me, and then as the years have gone on it's really evolved into: 'I do this for all the kids that have been told no, have been denied opportunities to be involved in sports, or in their communities, or in their schools,'" she said. "I want to be that example to them that if you have the courage and the perseverance to go after your dreams, all things really are possible."