Adaptive Bikes Help Children With Mobility Issues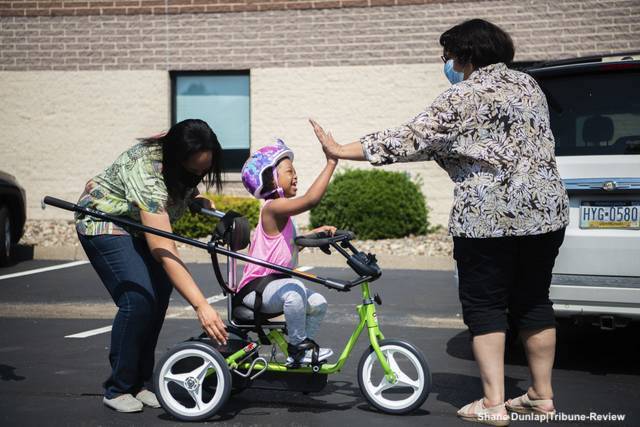 Aiden Rogers beamed Tuesday morning as his mother Melissa Burke helped him into the bright green adaptive bike that is destined to become a new friend. The 10-year-old Greensburg boy, who will be a fifth grader this fall at Clairview School in Hempfield, battles multiple challenges every day. In the past, his disabilities meant he could only dream of rolling down a bike path.
But decked out in a bicycle helmet, complete with gnarly green spikes to match his special ride and secured with straps to stabilize his upper body and toe clips to secure his feet to the pedals, Aiden was on a roll Tuesday morning, peddling for the first time around the parking lot of the Westmoreland Intermediate Unit's Hempfield offices.
"We can't wait to get out to Twin Lakes," Burke said, explaining that the brick paths around the lake are tailor-made for Aiden's new wheels. The boy with the mega-watt smile gave Charlie LaVallee a quick thumbs up as the boy's mother pulled out of the parking lot with Aiden and his new bike strapped into their SUV.
LaVallee, CEO of Variety Pittsburgh the Children's Charity, gets that a lot these days. "This will give him therapy and fun," LaVallee said. LaVallee was on hand Tuesday with technicians from Blackburn's Physicians Pharmacy, the Tarentum-based durable medical equipment supplier that customizes the adaptive bikes and strollers that Variety provides to children across the state.
The technicians at Blackburn's work with physical therapists to customize bikes and strollers for each child's specific size and abilities. They're on hand on distribution days to ensure that families know how to use equipment and break it down so it can be taken in their personal vehicles.
Working with a combination of government, corporate and private support, Variety has provided 137 adaptive bikes, 33 strollers and 66 communications devices — valued at $375,000 — free to special needs children in Westmoreland County since 2012.
Tuesday, LaVallee and the technicians from Blackburn's brought five bicycles and three strollers to be distributed at the special needs school, courtesy of a fundraiser the IU staff conducted last year. IU Executive Director Jason Conway said 111 staffers purchased Dress Down buttons for $35 each that allowed them to dress down on seven days throughout the school year.
They raised $3,850 last year. The prior year, when 78 employees participated, they raised $2,730.
Conway said the event holds a special meaning for IU staff, who work closely with special needs students. He's hoping to recruit even more of the IU's more than 300 employees as participants this fall.
LaVallee said groups ranging from unions to scouts and fraternal organizations and some individuals have signed up to sponsor fundraisers or make contributions to the groups. Those interested in participating can designate their funds for specific counties. He said Variety has provided equipment to children across Pennsylvania and into West Virginia and would like to hear from families with special needs children as well as potential sponsors.
Additional information is available at www.VarietyPittsburgh.org or by calling 724- 933-0460.
"Our goal is to provide every child with a bike, a stroller or a communication device," LaVallee said.
Communication aids
He's encouraging those who need communication devices — iPad with special programs for non-verbal individuals—to contact Variety.
"The legislature funded us for 1,000 communications devices. I'd hate to tell them we only gave away 500. I'd like to go back to the governor next year and tell him we need 2,000," he said.
The devices not only help nonverbal children communicate, they also unlock personalities and potential. LaVallee pointed to Jacob Bucheit. Now 23, Bucheit received an adaptive bike and later a special communications device as a child. His iPad helped him unlock his talent for comedy. Today, he is a comedian ambassador and fundraiser for Variety, LaVallee said.
Variety sets its income eligibility guidelines relatively high – a family of four with household income up to $131,000 a year is eligible for free equipment — to encourage families to apply for adaptive equipment.
Jared Blackham of East Huntingdon said the medical stroller he picked up Tuesday with his four-year-old daughter Maggie will definitely make the world more accessible for the little girl who struggles to walk with the aid of orthotics.
"Sometimes we avoid places because they are hard for her. She can walk, but she gets tired easily and she's getting too big to carry," he said. Maggie just smiled, stroking the fur-covered straps that secured her to her new ride, as her family wheeled her away.