Bionic Arm Will Restore Grip For Teenage Amputee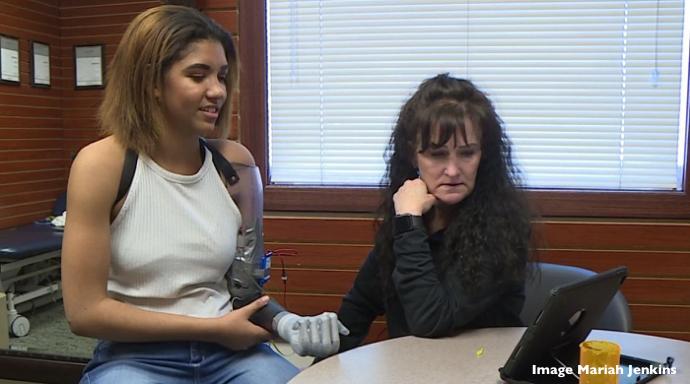 Last month we introduced you to Mariah Jenkins, a volleyball player from Crosby, North Dakota, who plays the sport with a fist full of courage. Doctors amputated her left arm above the elbow following a serious car accident in 2018. She refused to quit playing sport, and has adapted her game to compete with one arm. Now, thanks to a trio of very generous organizations, she'll soon be able to embrace life, and volleyball with both hands.
"We're going to be taking some white plaster and making a mold of your limb," said Michael Filloon, certified prosthetist, Essentia Health.
An integrated health care system, a global leader in orthopedics, and a small town charitable foundation are teaming up to make Jenkins as close to whole as possible.
The process of custom fitting a prosthetic arm begins with a plaster cast. Then therapists covered the limb with plastic film for a custom fit.
Attaching an I-limb above the elbow is difficult because there is less bone and flesh. "When you go above the elbow, you have to lock it in with straight suction and you have to be near perfect in your volumes and tensions," said Filloon.
Assisting Essentia Health in the effort to provide Jenkins with a $135,000 dollar prosthetic arm and bionic hand, are The Little Buddy Foundation and The Össur Corporation.
"Our goal at the end of every day is to help people live lives without limitation, so that is what drives every aspect of our business to help people like Mariah live lives without limitation," said Andrea Sherwood, MPO,CPO Certified Prosthetist Orthotist - Össur Americas.
Once the arm is ready, it's connected to a life-like hand. This I-Limb Quantum is a technological triumph. "I'm super excited, obviously it's been awhile since I've had, obviously had another arm to work with," said Jenkins.
Kristy Powel, an Össur Occupational Therapist, says this bionic hand has a motor in each digit, and two separate motors in the thumb. A mobile app gives Jenkins access to 36 pre-programmed grips.
"I have access to any grip at anytime, all I have to do is just touch the picture of the one I want and the hand goes into it," said Powell. Once Jenkins masters this device, simple tasks people take for granted will be possible again.
The Little Buddy Foundation in Dickinson, North Dakota, coordinated the effort to gift Jenkins with a new grip on the future. "The skies the limit for her and we're just happy to be a small part of her life right now," said Greg Pruitt, Little Buddy Foundation.
Alexie Harms, an occupational therapist, who's also one of Jenkins' volleyball coaches, will help her adapt to using the new appendage. "She is the hardest working kid out on the court, in the classroom, just in life," said Harms.
After the myoelectric hand makes life easier for Jenkins, she's looking forward to being fitted with a prosthetic designed especially for volleyball, which should elevate her game even higher. The prototype arm made in Fargo will be refined at the Össur facility in Waterloo, Iowa. The final product will then be refitted.
The Little Buddy Foundation has helped fund two other prosthetics for kids who have lost limbs. The charity hopes to raise enough money to make a gift like this one every year. If you would like to learn more about the charity visit www.littlebuddyfoundation.org