Life Is About Perspective for Veteran Amputee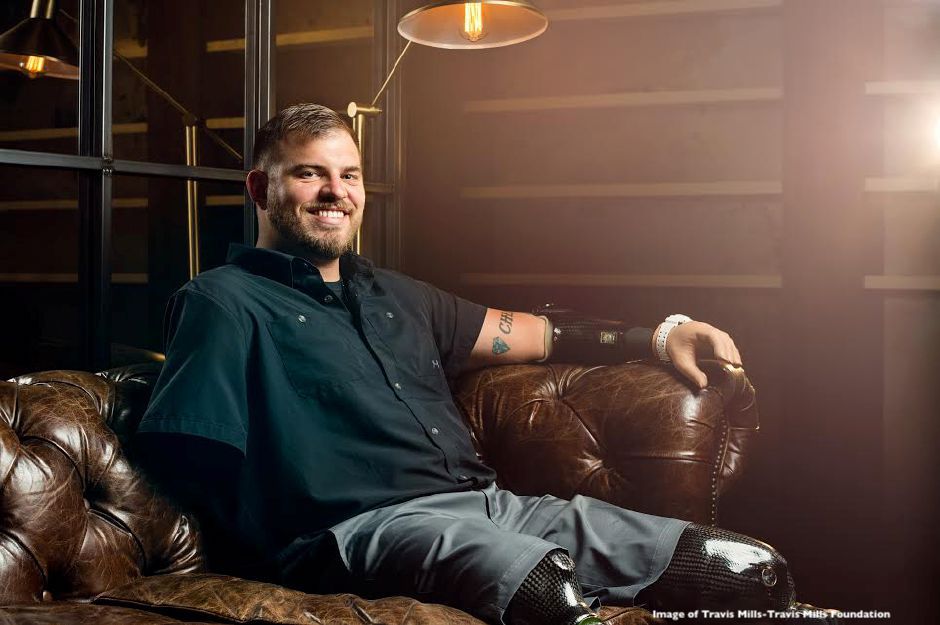 When you think of a veteran and quadruple amputee sharing their story of resilience you probably aren't expecting comedy. But Staff Sgt. Travis Mills defies expectation.
Quinnipiac University's Center for Medicine, Nursing and Health Sciences hosted Mills to talk about his life and recovery after losing portions of his arms and legs when an improvised explosive device went off while he was on patrol in Afghanistan.
"I've got to be honest standing in front of you tonight I'm a little bit nervous," Mills said during the Nov. 5 talk. "I hope I don't bomb this."
Mills began by talking about his time as an athlete in high school and college before joining the army and eventually meeting his wife. Mills was on his third tour of duty in April 2012 when everything changed.
After the bomb went off, Mills was transported to the hospital where he was treated for 14 hours straight by various doctors and nurses. He became one of five quadruple amputees from the wars in Iraq and Afghanistan to survive his injuries.
Mills said that his brother-in-law, Josh Buck, was the one to break the news to him.
"I said 'Am I paralyzed?' and Josh said 'No.'," Mills said. "I looked at Josh again and I said 'I can't move my fingers and toes, you tell me the truth.' And he didn't sugarcoat it, he said 'You're not paralyzed, you don't have them anymore.'."
Mills declined help from mental health professionals and instead dove headfirst into recovery, committing himself to occupational and physical therapy at Walter Reed National Military Medical Center in Bethesda, Maryland.
Mills showed the audience his prosthetics, particularly his left arm and how it worked. By flexing particular muscles, the arm responds and Mills is able to rotate 360 degrees as well as clench and unclench his fist.
"Life is all about perspective for me," he said. "You see, I'm home with my eight-year-old daughter and my wife, where Frankie, one of my closest friends, is no longer there."
Mills now travels the country sharing his story. Additionally, he and his wife, Kelsey, founded the Travis Mills Foundation, a nonprofit organization "formed to benefit and assist post 9/11 veterans who have been injured in active duty or as a result of their service to our nation."
"It's all about giving back and pushing forward," he said. "My slogan is 'Never give up, never quit.' I live by that every day because of my family and the fact that I'm still here."
Mills presentation had an effect on those in attendance.
"Mills' demeanor and outlook will motivate and inspire us to overcome our perception of difficulties that stand in our way," said Erica Mumm, assistant professor of nursing at Quinnpiac University.