Paralympic Athlete Wants to Compete with Able-bodied Athletes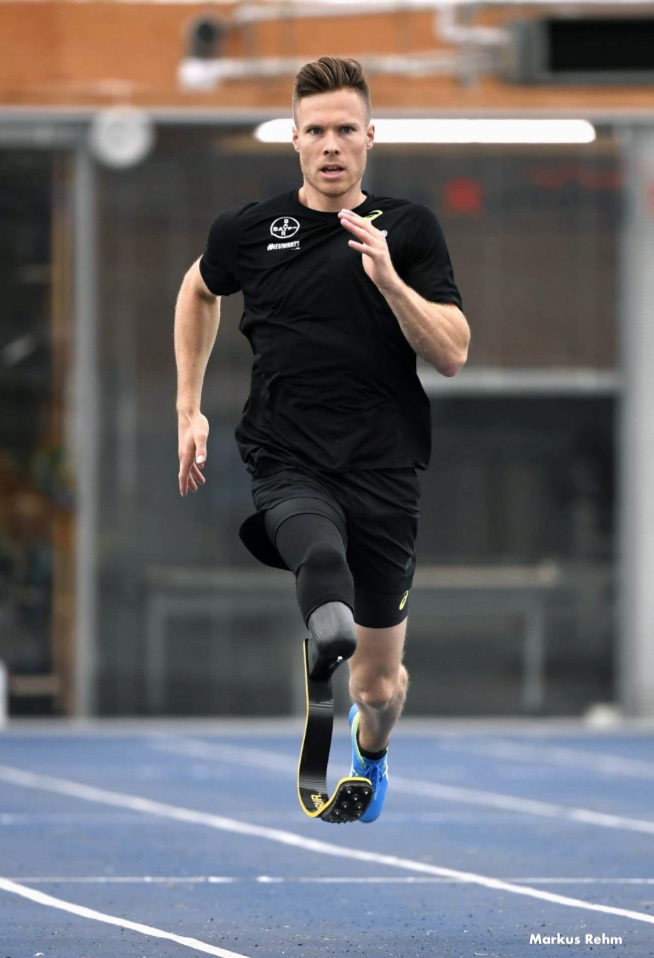 Two-time Paralympic long jump champion Markus Rehm is pursuing able-bodied athletes' world record in the hope it will help change perceptions about people with disabilities.
While society is getting more open-minded about disabilities these days, many still treat disabled persons as individuals who need to be protected, said Rehm, who holds a para sports long jump world record. He believes that should no longer be the case.
"I try to show everybody that disability is not a handicap. You can still do anything you want in life," Rehm said during a recent interview with Kyodo News in Tokyo. "This is what I want to prove."
A few years back, Rehm pointed out, people thought para-athletes would never be able to jump eight meters.
"Look today...who knows how far we can yet jump," he said.
Rehm, born on Aug. 22, 1988, in Goppingen, Germany, had his right leg amputated below the knee when he was 14 years old after a wakeboarding accident. He said he still wakeboards in his spare time as a hobby.
A 2012 and 2016 Paralympic gold medalist, Rehm has been into sports from a young age, taking up athletics at age 20 in Leverkusen, Germany, where he was given a prosthetic leg, according to the International Paralympic Committee. Since then, he has set the long jump record for para-athletes, 8.48 meters, in Berlin in 2018.
For him, even that record seems breakable as he sets his sights on 8.50 meters, after that the all-time German record of 8.54 meters, and eventually the world record of 8.95 meters, which he called "crazy far."
"I don't want to have a limit in my mind," he said, adding he wants to "jump further than the Olympic athletes" for the sake of inspiring people and better representing his sport.
He also revealed some secrets to utilizing his famous prosthetic carbon-fiber blade, saying the most important thing is to have a feeling for the rhythm that each blade has.
Pointing to all the good jumpers with artificial legs, Rehm said, "You can see they have a feeling for the blade to understand what the blade is doing, because you can't force the blade to work faster or slower."
He added that utilizing the torso muscles and coordinating the entire body are keys to a successful run up and takeoff.
Rehm had been competing on the same prosthesis since 2013 until a new blade was released earlier this year. He said the new blade was the result of his collaboration with prosthesis maker Ossur.
"It has a bit longer toe, so it looks really big but actually it is not," he said, referring to the new blade.
"My previous blade was made for sprinting...(but) this one was specially designed for jumping."
Regarding the advancement of blades and technique, he said, "(At) the moment, we don't try to increase the ability. We just try to replace what we've lost," while admitting it is difficult to define what constitutes replacement or improvement.
"This is also (a) main point of the discussion of competing together (with able-bodied athletes) or not," he said.
While Rehm has been competing with able-bodied athletes at the international level for years, and winning some competitions, his Olympic dream fell short as he was unable to prove that his blades did not give him an advantage in a bid to compete at the Rio de Janeiro Olympics.
Currently, he is not in talks with the International Association of Athletics Federation about competing in the Olympics. And Rehm said he prefers to find a better alternative to taking his case to the Court of Arbitration for Sport.
"I don't want to force it," he said.
IPC President Andrew Parsons said he understands disabled athletes' desire to compete against able-bodied athletes on the world stage, saying the critical factor is ensuring fairness.
"I think it is part of the nature of an athlete. They are always looking for a bigger challenge," Parsons recently said in a separate interview.
In 2012, double amputee Oscar Pistorius of South Africa competed in the London Olympics, becoming the first athlete to compete in a track event of both Olympic and Paralympic Games.
Parsons said, however, something like a merged competition is not a direction his organization is aiming for because only a few athletes in very few sports can even aspire to compete with able-bodied athletes at a level like the Olympics.
Parsons said it is up to each individual athlete and his committee is willing to support their dreams if they want to compete with able-bodied athletes on a level playing field.
"But other than that, it is not something that we are pursuing. We think, at the moment, we have the best model with the (separate) Olympic Games and Paralympic Games," he said.
Rehm, too, believes the Olympics and Paralympics should be a separate event but he wants to bring them closer with a marquee event in which both disabled and able-bodied athletes can compete.
"I think it always has to be Olympic and Paralympic Games, but I would like to connect them," he said.
"We have different values we stand for. The Olympic values and Paralympic values are close but not the same," said Rehm.
So he suggested having an event, something like a 4x100-meter relay, to close the Olympics and reopen it for the Paralympics, combining the Olympic and Paralympic athletes in the same stadium.
"This will be great and we will show that we are united," he said. "This is what I dream for the future."