College Student and Amputee Begins Nonprofit to Help Children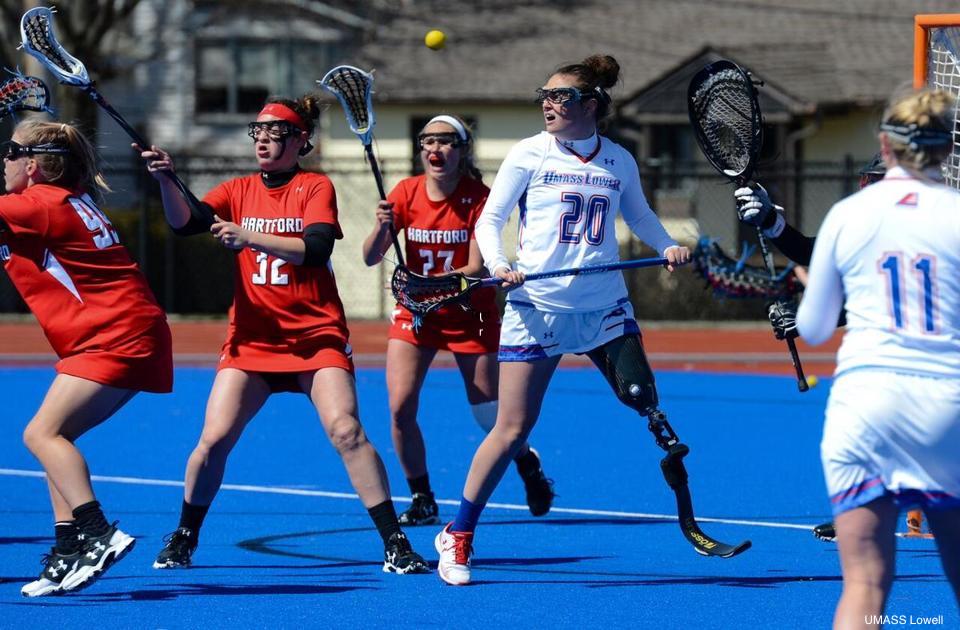 Noelle Lambert never wavered in her determination to get back on UMass Lowell's Division 1 women's lacrosse team. After losing her left leg in a moped accident on Martha's Vineyard in 2016, Lambert trained with ferocity. And when she played her first full collegiate game with her prosthetic running blade last April, she scored.
Now the UMass Lowell senior wants to help others. She founded her own nonprofit, the Born to Run Foundation, to help young amputees receive athletic prosthetics. Specialized athletic prosthetics can range from $5,000 to $100,000, she said. They are generally not covered by insurance.
Four-year-old Isaak Depelteau of Amherst, N.H., is the foundation's first recipient. He received his Batman-themed running blade just before his 4th birthday. The toddler's left leg was amputated when he was 2 due to neurofibromatosis, a genetic disorder that causes tumors to form on nerve tissue. Parents Derek and Sarah Depelteau had two options — have Isaak undergo multiple surgeries throughout his childhood, or amputate.
"After a grueling year of praying and talking to other parents and surgeons, we decided to amputate," said Sarah. Thanks to his new running blade, Isaak will play soccer this spring. He'll be able to play basketball, run outside, and eventually play with his sister, 11-month-old Faith. When the foundation informed the Depelteaus that Isaak would receive the blade, they were overwhelmed. "It was a super emotional day for me," Sarah said. "A blessing. . . . We've been blessed throughout this process."
Lambert, of Manchester, N.H., said that seeing Isaak on his little blade was emotional, as well. "Within an hour, he was running up and down the hall like he'd had it for years." Lambert, 22, is now focused on her upcoming lacrosse season. After graduation, she's thinking about setting her sights on track and field at the Tokyo 2020 Paralympics. She also looks to get more involved with motivational speaking and working with her foundation, which has just named its second recipient: Emma Graham, 24, of Manchester, N.H.
For her efforts, Lambert will be honored with a Heroes Among Us Award at the Boston Celtics game on Saturday, Jan. 26.
Four-year-old Isaak received his Batman-themed running blade just before his birthday. In the summer of 2016, Lambert, then 19, had just finished a standout freshman season on UMass Lowell's lacrosse team. On July 30, Lambert and teammate Kelly Moran visited Martha's Vineyard. It was a beautiful day and they decided to rent a moped to drive to the beach. "It was my first time driving a moped. I lost control and side-swiped a dump truck. My leg was severed on the scene," Lambert said. "I remember looking at this random person, telling them to call my mom. . . . I said, 'Mom I lost my leg. I'm fine. I have to go.' I was in shock."
Geoffrey and Judy Lambert were just about to leave for a cookout when Judy got a call on her cellphone from a number she didn't recognize. "That initial phone call, that was so distressing," Judy said. "Once we heard she was in stable condition, I said, 'We can deal with anything now.' "
Lambert was taken to Martha's Vineyard Hospital, stabilized and airlifted to Boston Medical Center, where what remained of her leg was amputated above the knee. Moran also suffered serious injuries to her right leg along with a shoulder injury, Judy Lambert said. In Boston, one of Noelle's first visitors, aside from family, was her lacrosse coach, Carissa Medeiros. "I remember asking her if I was still on the team," Lambert said.
Growing up, she was a three-sport athlete (she also played soccer and basketball) at Londonderry High School. "Sports were always a huge part of my life," she said. "Right away I had this mind-set where I was going to return to the field anyway I can." After five days at BMC, Lambert spent a week at Spaulding Rehabilitation Hospital in Boston, then started physical therapy. Women's lacrosse is a spring sport; UMass practices during the fall season. That fall, Lambert took online classes, and commuted some 45 minutes each way for nearly every lacrosse practice. "I wanted to be there for my teammates," Lambert said. "I didn't want to miss anything."
During the 2017 spring season, Lambert attended every game, cheering from the bench. When she received a running blade through Challenged Athletes Foundation and began working with a personal trainer, the improvements came quickly. In April 2018, Lambert scored her first game goal. Of course, Lambert never would've had the chance to run again if not for her specialized running blade.
To go to the beach, she needs a different waterproof leg, which was donated by the Heather Abbott Foundation. Abbott was a survivor of the Boston Marathon bombing.
"Seeing these foundations, it inspired me to start my foundation. Without them, I wouldn't be able to go to the beach with my friends, or play sports," Lambert said. So a little over a year ago, she established the Born to Run Foundation, a nonprofit dedicated to providing child amputees with speciality prosthetics. Lambert returned to UMass Lowell's women's lacrosse team after losing her left leg in a moped accident.
Isaak Depelteau was born seemingly healthy, the day after Christmas 2014. But soon his mother noticed the infant's left tibia and fibula were significantly bowed. Isaak was diagnosed with NF-1 caused by a spontaneous mutation. In the middle of his lower leg was a congenital pseudarthrosis, a fracture that would not heal, often called a "false joint." In July 2016, Isaak broke his leg while playing in the driveway.
The Depelteaus had two options: a childhood of surgeries for Isaak, or amputation.
"In talking to a multitude of moms who had gone through this, by the time their kids were 8, they were asking to amputate. That held a lot of weight for us," said Sarah.
"From a parent's point of view, so much of it was what-ifs, worry that he's going to be upset when he's older. There was fear, doubt, worry," said Sarah. "We sought out prayer and support."
In May 2017, Isaak's left leg was amputated below the knee at Boston Children's Hospital. Isaak spent about a month in a cast. Some two months after, he was in his first prosthetic: a Spider-Man-themed leg.
Here's where their stories come together: Both Isaak and Lambert go to Next Step Bionics & Prosthetics Inc. in Manchester, N.H., and are fitted by the same prosthetist — a skier and former Paralympian named Jason Lalla.
One day, while scrolling on Next Step's Facebook page, Lambert saw a video of Isaak on his Spider-Man leg, and asked Next Step if the family might want to apply to her foundation. They did. Just before his 4th birthday, the toddler became the foundation's first recipient. Soon Isaak was off and running, Sarah Depelteau said. "We're overwhelmed with gratitude. . . . It's amazing how kids are so adaptable," Sarah said. "His acceleration, running on a flat surface, is phenomenal."
Derek Depelteau added: "To see him on the blade, designed for speed and agility, it's amazing to see him really take off. He's really able to keep up with other 4-year-olds."
After Derek applied to Born to Run, the Lamberts saw an open letter he wrote to his son about the decision to amputate.
"[N]o parent wants to be forced to make such a life-changing decision. . . . The days between the fracture and your actual surgery were the hardest yet most thought-provoking days of my life. . . . "I will never forget the smile you gave me as you hugged your baby bear tightly while being rolled into the operating room. . . . While we may have lost your left lower leg as part of this journey, we have gained more than we could have ever imagined."
Judy Lambert called the letter "unbelievable. I don't think you can read that without crying."
Derek said, "I wrote it right after the amputation, and the emotion was raw, but that's not to say I'll ever lose the rawness."
The letter hangs in their home, and will someday be given to Isaak.
"I wanted him to have a personal letter from me to him, explaining the journey, and how inspired I am by him — how well he's been able to deal with this challenge and to overcome it," he said.
Isaak will use his blade for soccer this spring. "He has a natural affinity for sports — swimming, gymnastics. He plays basketball outside; he's gravitated to soccer," said Derek. Isaak has "limitless, unhinged energy," his dad continued. "Everything you'd expect from a toddler."